Reading Time:
2
minutes
Amazon has unveiled AWS HealthScribe, a groundbreaking AI-based clinical documentation service designed to streamline and enhance the documentation process for healthcare professionals. This HIPAA-eligible service leverages automatic speech recognition and generative AI to automatically analyze patient-clinician conversations and generate clinical notes with exceptional accuracy.
Key Features and Benefits:
300 Minutes of Free Usage: During the preview period, AWS HealthScribe offers up to 300 minutes of free usage per month for two months, allowing healthcare providers to explore and experience the benefits of this service without additional costs.
Enhanced Clinical Productivity: HealthScribe's AI-generated clinical notes are easier to reference, edit, and finalize, enabling clinicians to complete documentation more efficiently, saving valuable time in their busy schedules.
Responsible AI Usage: HealthScribe includes traceable transcript references for every AI-generated note, promoting responsible AI usage in clinical settings. Healthcare professionals can easily validate the accuracy of the notes before incorporating them into patient records.
Unified and Integrated Service: Implementing HealthScribe in your application is made simple with a unified, integrated conversational and generative AI service, reducing the complexity of integration and implementation.
Patient Privacy and Security: The service is HIPAA-eligible, ensuring that patient privacy is safeguarded during telehealth and in-clinic consultations, meeting the highest standards of data protection.
Use Cases:
Reduce Documentation Time: Clinicians can quickly complete documentation using AI-generated clinical notes, making the process more efficient and accurate.
Boost Medical Scribe Workflow Efficiency: Medical scribes can benefit from AI-generated transcripts and clinical notes, along with consultation audio, expediting the documentation turnaround time.
Patient-Friendly Consultation Recap: Healthcare software vendors can create applications that offer patients a quick recap of key highlights from their consultation, enhancing the patient experience.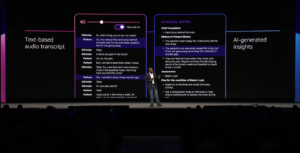 HealthScribe in action: AI analyzes patient-clinician conversations, and auto-generates clinical notes. Enhance productivity, ensure accuracy.
Trusted Customers:
AWS HealthScribe has already earned the trust of reputable healthcare providers, including:
3M, which leverages AI to improve clinical efficiency.
ScribeEMR, transforming patient visit documentation.
Babylon, a pioneer in advancing AI in healthcare documentation.
Getting Started:
To experience the benefits of AWS HealthScribe, healthcare providers can sign up for the preview by clicking here Amazon Healthscribe, and start building with the service using the AWS Management Console. The pay-as-you-go pricing model ensures no upfront costs, making it accessible for various healthcare software vendors.
AWS HealthScribe represents a significant leap in clinical documentation technology, enabling healthcare professionals to embrace the power of AI responsibly. It's set to revolutionize how patient-clinician conversations are transcribed, leading to more efficient and accurate clinical documentation processes.
This game-changing service is poised to redefine the healthcare industry's documentation landscape, empowering clinicians to focus more on patient care while ensuring accurate and reliable medical records.
Curious to learn more? Dive deeper into HealthScribe's innovative approach to generative AI in healthcare. Read Rebecca Pifer's insightful interview with AWS' Tehsin Syed on Healthcare Dive.