Reading Time:
3
minutes
Effective targeted communication in marketing is essential for healthcare providers and practice managers to ensure that their messages resonate with their specific audience. By tailoring content to address the unique challenges, needs, and interests of the audience, it maximizes the likelihood of engagement, trust, and, ultimately, an increase in revenue for the practice.
At Billed Right, we are excited to share invaluable insights gathered from a comprehensive research effort conducted by UPshow, a prominent media company specializing in cutting-edge digital signage software. This research not only underscores our commitment to staying at the forefront of industry trends but also highlights our dedication to providing healthcare providers and practice managers with the most pertinent and up-to-date information.
Understanding UPshow's Expertise
UPshow, a renowned company specializing in elevating customer engagement through digital signage, has been at the forefront of transforming how brands interact with their audience. Their comprehensive white paper serves as a treasure trove of insights gathered from extensive research and practical experience.
UPshow surveyed 261 patients from across the United States to ask them a few questions about their healthcare waiting room experience. The following are the key findings they uncovered through their survey.
Patients enjoy on-screen content
When UPshow asked their respondents what they did when visiting a healthcare provider. 67% of patients reported watching the television screens in the waiting room.
This is also great news as 2 in 3 patients feel that the wait times in the waiting room feel shorter while watching the television.
42% of patients also stated that they experienced less anxiety while waiting when they had access to on-screen content.
Gaps Exist Between What Patients Want and Healthcare Facilities Provide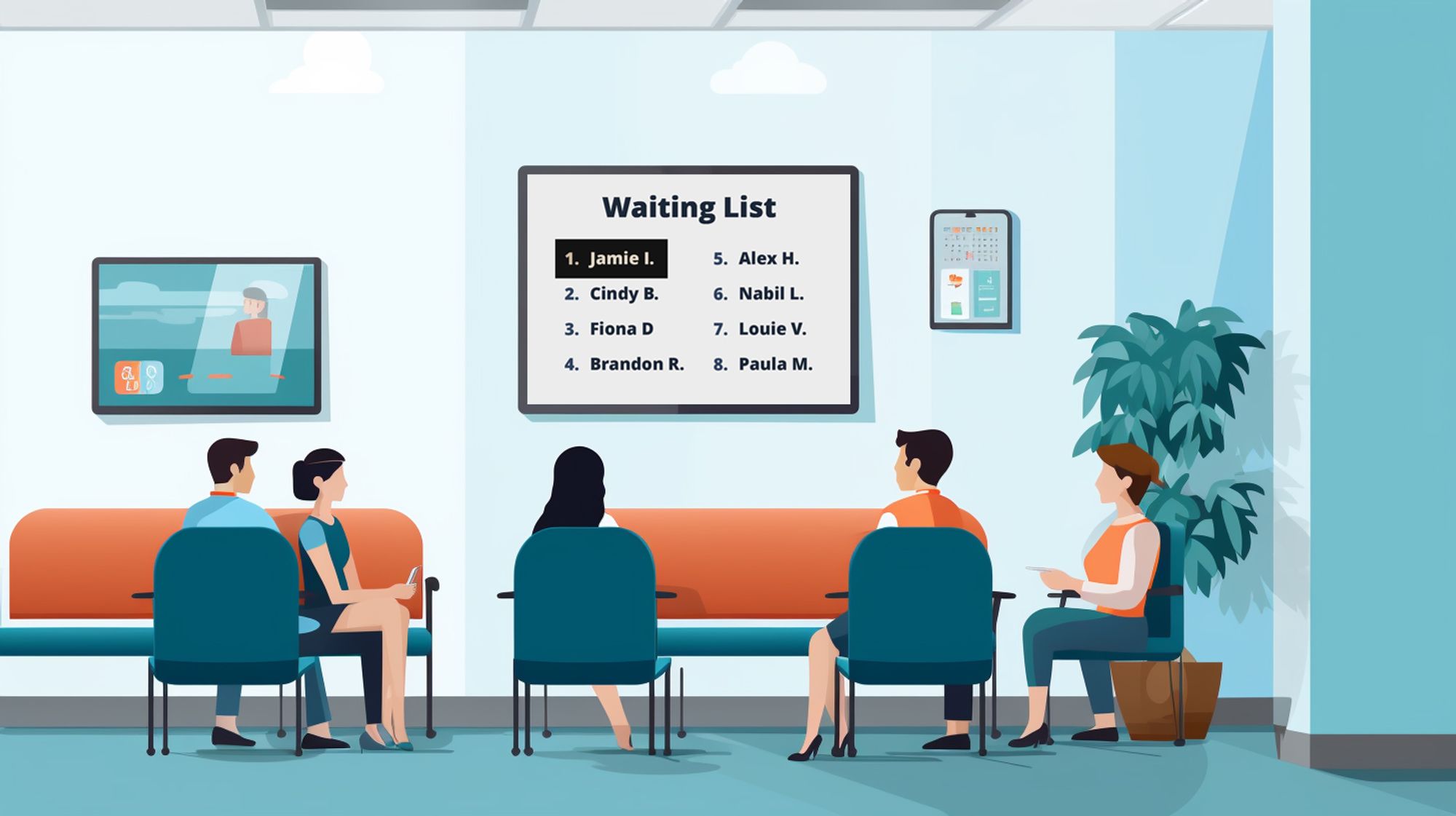 Fewer than 1 in 10 reported seeing wait times on screens, but nearly 8 in 10 respondents indicated they would like a better understanding of wait times.
According to research done by UPshow, other things patients want to see include:

Patients Need Additional Information
71% of patients surveyed said they would like suggestions for helpful questions they can ask their providers.
Providers can use screens to answer commonly asked questions, especially in a specialty environment. They can also provide lists of more generic questions to help patients be more prepared for their appointment.
The following questions would be interesting to add so patients have more of a sense of control during their visit:
What lifestyle changes can I make to improve my condition?
What are the potential side effects of the recommended treatment?
How will this treatment impact my daily life and activities?
Are there any support groups or resources for patients with my condition?
What should I do if my symptoms worsen or new symptoms arise?
Detailed Survey Demographics

Conclusion
Incorporating UPshow's research, Billed Right underscores the pivotal role of targeted communication in healthcare marketing. By aligning content with the specific needs of patients, healthcare providers can enhance engagement, foster trust, and bolster revenue.
The findings that the organization UPshow revealed demonstrate the effectiveness of on-screen content in reducing patient anxiety, filling in knowledge gaps, and offering priceless insights for better patient-provider interactions, thereby reiterating the value of personalized messaging within healthcare practices.
If you're interested in delving deeper into the insights from this study, feel free to follow the link provided below for more detailed information: