Reading Time:
3
minutes
Managed care brought about so much more administrative work to the healthcare industry than there had ever been before. To make it even more complicated each insurance company has a different set of rules and guidelines that must be followed. What if a patient needs to see a specialist? Or needs to have a procedure done? Two requirements that are critical to know are medical authorizations, sometimes called pre-authorization or prior approval, and medical referrals.  And understanding the difference can save you time, frustration, and money.
What is a Medical Referral?
A medical referral is a written order from a primary care physician (PCP) for a patient to be seen by a specialist.  A PCP will issue a referral when they believe a patient needs the expertise of another physician for treatment or for testing that needs to be done outside their office. 
One thing to remember is the specialist that the PCP provides the referral to may or may not be in the patient's provider network. It is the patient's responsibility to verify this information with their insurance company and request someone in-network if the original one is not. 
Not having a medical referral can cost both the specialist and the patient as the medical care may not be covered without it.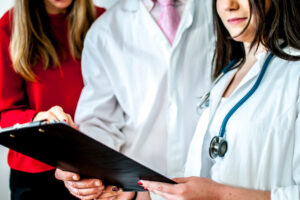 What is an Authorization?
There are times when specific healthcare services require pre-authorization or prior approval from the insurance company before services are rendered.  This formal request for services is sent to the insurance company by the physician. The insurance company then does a review of the medical services being requested to determine if they feel it is medically necessary, appropriate, and covered by the healthcare plan. Once the review is completed the insurance company will either deny or approve the authorization. 
If approved, an authorization number will be issued that needs to be documented on the claim for services when the claim is filed. Although this number does not guarantee payment not having it will certainly lead to denial with the cost then being passed on to the patient. 
Medical authorizations can take time. Sometimes patients don't want to wait and would like to have procedures done as soon as possible. They need to be educated that going ahead with health services without the appropriate authorization can end with them being financially responsible for the entire bill. 
Getting Help with Medical Authorizations and Medical Referrals
Both authorizations and referrals take time and add an administrative burden on your staff. Time that could be spent ensuring the quality of patient care. Billed Right can help! 
Billed Right is a revenue cycle management company, started in 2006, that believes in a holistic approach to practice management. To that end, they not only offer RCM but also have virtual back-office services such as an authorization and referral service.
With Billed Right's Medical authorization and Medical referral service you can expect:
A virtual resource

Submission request within 12-24 hours

Record of the authorization and referral steps completed

Work done through Practice Management System

Notification of peer-to-peer review requests

Communication with staff on approvals and denials 
With over 15 years of experience and a highly trained and HIPAA-certified staff, Billed Right understands the ins and out of obtaining pre-authorizations and referrals and can save you time and money on what can be a time-consuming and sometimes complex process. 
Contact us today to see how we can help!